A perfect balance of features and value. The Equipoise is ideal for classrooms, laboratories and industrial applications.
These seven-button balances allow quick access to 13 different units of measure, percentage, counting and accumulating. A detachable enclosed weighing chamber is included in capacities below 1000 grams.

Equipoise can be used with the included AC adaptor or an onboard rechargeable battery that offers up to 40 hours of continuous operation.

RS-232 output is standard on each model. RS-232 cable is optional.
Standard Features:
Capacities between 300 g and 6000 g
Internal resolution: 1/600,000
LCD display
Quick response
Accumulation, counting and percentage modes
13 different units of measure
Detachable enclosed weighing chamber (in capacities <1kg)
Battery operation for up to 40 hours of continuous use (without backlight)
Standard RS-232 interface for connecting to printer or PC
Fast, accurate and versatile general purpose weighing is standard with the Int700 platform scale. Its large, easy to read LCD display is enhanced with an LED backlight. With a capacity range from 60 to 300 kilograms, the Int700 offers versatility for many applications.

The Int700 also offers standard weighing, counting and checkweighing functions, as well as automatic zero tracking and an audible alarm for preset weights. An accumulator allows individual weights to be stored and recalled as an accumulated total.

Standard Features:
52 millimeter backlit LCD display
Checkweighing, accumulation and peak hold capabilities
Animal weighing
RS-232 connects to a PC or printer
Hi, Low and OK LED annunciators
Configurable to 30.000 divisions
Die-cast base
Multi-range AC adapter with multi-plug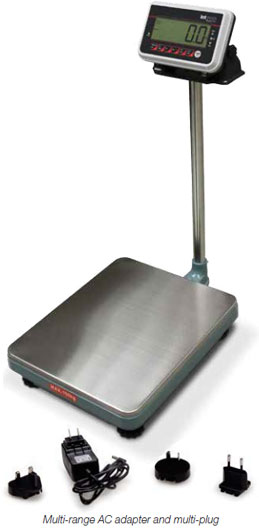 Harsh environments and demanding capacities are no match for the industry's toughest floor scale. RoughDeck lives up to its name with superior structural design, specialized footing, and durable load cell and cable protection. RoughDeck's design separates it from other floor scales by minimizing deck deflection and extraneous forces that could damage load cells.

Standard or customized, the RoughDeck series is available in low-profile stationary and portable versions, and offers component interchangeability and alternative construction materials to meet specific industrial requirements -- from basic shipping and receiving to highly corrosive or washdown environments.
Options:
Installation options, whether in mild or stainless steel, add versatility to your RoughDeck.
Digital weight indicators
Indicator floor stand
Floor anchor plates
Pit frame
Access ramps
Bumper guards
Portability frames
Rice Lake's Legend Series combines industrial strength with innovative features to deliver the best in performance and value.
With NEMA 4X, stainless steel enclosure and advanced gasket system, the industrial-strength Legend Series is built for dirty, wet environments and demanding workplaces, inside or out. Choose between large, ultra-bright LED or LCD displays with 0.8-inch digits and sharp contrast for superior display visibility.
Advanced circuitry withstands electrical noise, power disturbances and transient spikes that are common to industrial applications. The Legend Series' six-button tactile keypad allows for quick navigation and programming. Advance to the Legend Plus Series for a full numeric keypad.
The Legend Series offers a valuable solution for a variety of applications, from basic weighing to batching. Keyed tare and built-in gross/net modes provide quick flexibility for everyday needs. Also utilize the 480's custom ticket printing to modify gross, net and setpoint tokens for a tailored print format.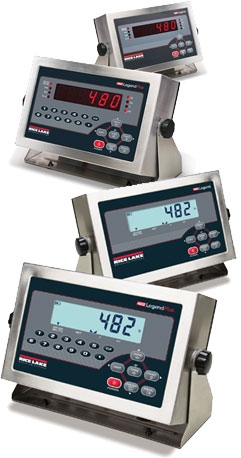 Power:
Standard AC power for stationary applications
Optional internal battery for portability, with power-saving modes for long-lasting operation
Options:
Analog output with 0-10 VDC, 4-20 mA; configurable for positive and negative value tracking
Relay output with two inputs and four dry contact relays
USB and Ethernet TCP/IP board supports server and client connections
Functions:
Internal clock with time stamp can be positioned in configurable print formats
Unit ID number can be entered by the operator to uniquely identify each scale or job
Eight batch steps with latched or continuous outputs based on gross, net or delay values
Features:
Two serial ports: two on demand and one continuous
Single scale input from light capacity bench scales to heavy capacity industrial scales
Local/remote: add an additional indicator as a secondary display in a remote location

Truck scales endure a tremendous amount of repetitive abuse. In most scale designs, too much vertical movement (or deflection) is allowed as force is applied and removed from the deck. Over time, cumulative metal fatigue occurs, causing expensive downtime, repairs and eventual complete failure. The most visible sign of excessive deflection is deck cracking and deformation of steel components. But even more critical to scale performance and longevity is the wear and tear on structural elements and moving parts.
SURVIVOR® SR truck scales are designed to accommodate a minimum of 250 trucks per day for 25 years without weighbridge fatigue. This is equivalent to over two million weighments.
SURVIVOR® truck scales - The ultimate in durability


Incredibly low deflection factor -- under 1:3100 tested
90,000 lb capacity load cells and mounts
Standard 8" thick concrete deck
Performance


NTEP-certified standard widths to 14 feet for faster truck processing and added safety for drivers (NTEP #98-011A2)
Faster, more accurate weighments -- less wear with patented G-FORCE™ mounting system
Convenience


Ships as legal highway load from factory to installation -- no permits, no road restrictions, and no restricted travel times
Low-profile design
Rugged reinforced load cell pockets offer easy access to load cells and mounting assemblies